Aircraft Torches
Brief History
Len Emery
January 2005
Roan Welding & Inspection
Aircraft torches were popular before WWII for sheet metal work, tube welding, battery repair, (lead burning) and other light work. During WWII they were used to weld aluminum canteens and of course, aircraft frames. They were small, light and nimble perfect for use by women with smaller hands used to intricate sewing and embroidery.

Picture #1
The first picture shows some of the Marquette torches. The top one is a newer model "Aero-Jet" with a GW4-5-1 cutting attachment. I believe the body is solid die-cast aluminum with drilled passages for the gasses. The welding tips use O-Rings and the body has a tapered seat. Note that the cutting tip screws into the forged brass head and is retained by a steel nut
The next torch down is an older model Aero-Jet with a tubular vented aluminum extrusion handle with O-Ringed tubes carrying gasses to the valves.
The next to bottom torch is a model "B-1" and has a brass body and like the torches above, a stainless steel head for long thread life. The mixer for this torch has a square shank which keys into the torch body. The separate tip uses a ferrule like a compression fitting for a seal.
Bottom torch is a model 3563-2 lead burning torch with a separate miser and tip similar to above. Body is a brass forging.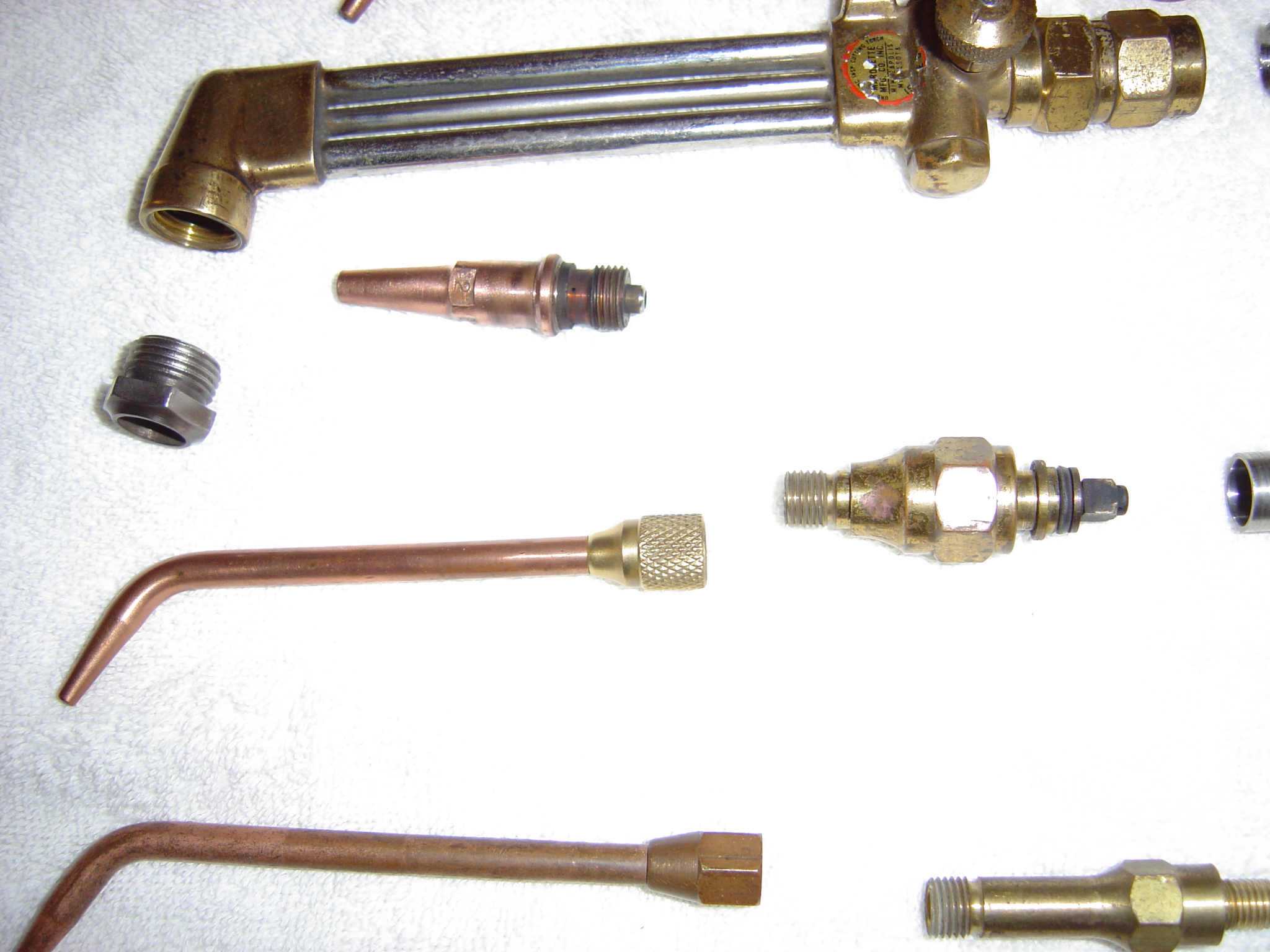 Picture #2
The second picture is a close up of the mixers for the Marquette family.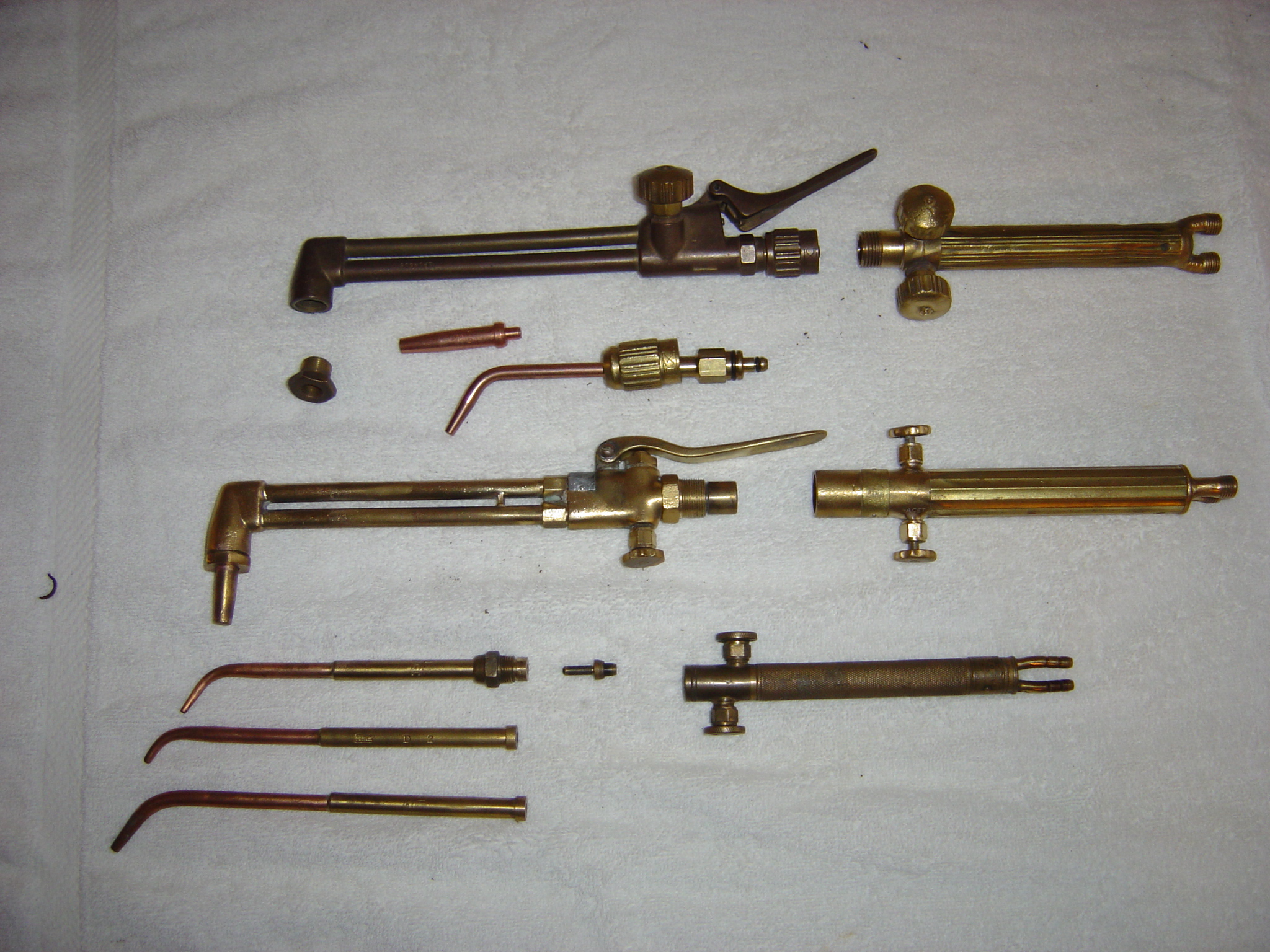 Picture #3
The third picture is of the Purox family of torches.
The top torch is a n older model W-200 with a vented extruded brass handle with 2 separate silver brazed tubes, probably the safest design made. An original style CW-200 cutting attachment that used 4100 series tips. Welding tips have O-Rings and fit a 2 diameter counterbord seat in the torch body not a tapered seat.
Middle torch is a Prestoweld W-109 with a mating cutting attachment. The internal male cone seat in the torch body is protected from damage by the sleeve. A complicated difficult to machine arrangement.
Bottom torch is a Purox model "00" with 3/16 hose barbs and a separate mixer with tapered seat. Note however that the tips have a flat seat. Also noth that although the above torches were 2 different makes the are obviously of the same family.
Don't know when Oxweld, Purox, Prestoweld, and Prest-o-Lite were acquired by Union Carbide's Linde Division.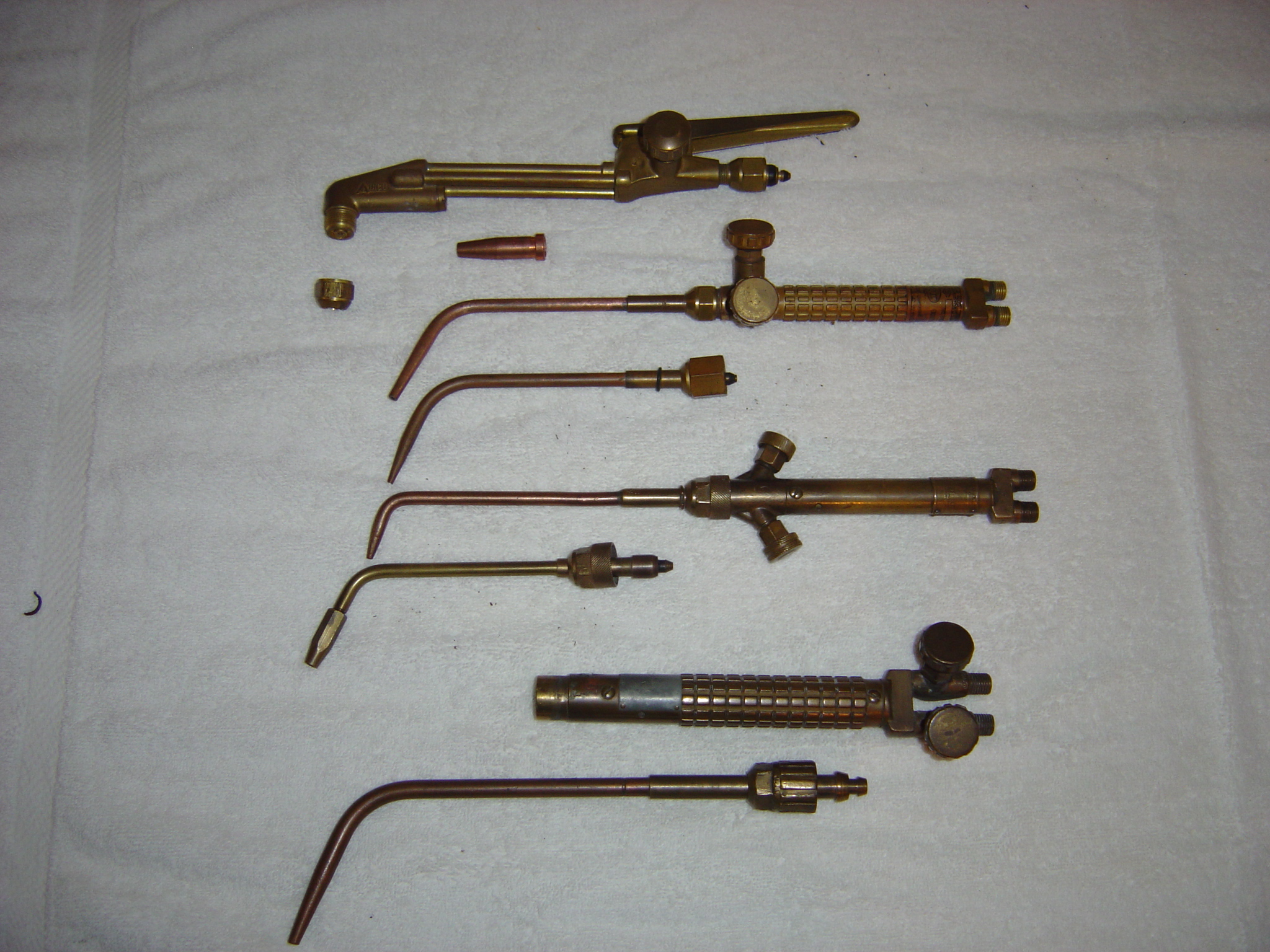 Picture #4
Fourth picture is of the Airco family of aircraft torches. The top torch is a style (model) 400 with a vented extruded "corn cob" handle, an Airco trademark, and silver brazed tubes similar to the Purox torches. Uses a tapered seat and molded seals bigger than O-Rings and much more durable. Cutting attachment is a 1490 and uses the style 112 flat seated tips.
Middle torch is an older brother a model 9100 It uses a hard tapered seat and a female nut on the tip and rearward facing valves.
Bottom torch is an older brother to a 700 and has A size connections (Tag is missing so I don't know the model number, Help!) it has a hard seat and shrouded male nut on the tip. It is very similar to the 9803 the ancestor of the current model 800